Concrete Pumps
Truck Mounted Pumps
Static Pump
Placing Boom
Road Sweeper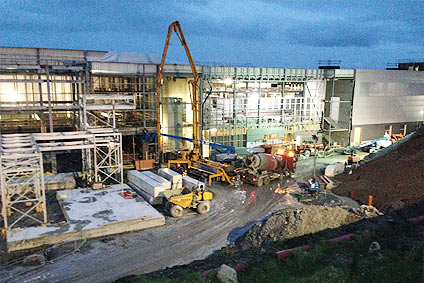 National Concrete Pumping & Crane Hire operates a full range of mobile concrete pumps to ensure a suitable pump can be selected for each job.
We offer boom sizes from 34 to 52 metres to cover the smallest and largest of sites. The most modern pumps from M34 upwards are fitted with OSS (one side support). This system allows the outriggers to be extended halfway on one side and employs an interlock to prevent the boom from slewing onto that side. When using the OSS system the footprint needed for setting up the larger machines is reduced without compromising their safe operation.
National Concrete Pumping & Crane Hire's pumps are effective with all pumpable concrete mixes including special concretes. We regularly pump lightweight and heavyweight concretes, polypropylene and steel fibre reinforced concretes, foamed concrete, super-plasticised, self levelling concrete, microsilica concrete, low slump concrete and grout. When working with these special concretes we strongly recommend that you arrange a meeting to include the concrete pump supplier and the concrete supplier to ensure that the pump pour goes to schedule.